Just playing around trying to tighten up my spam which I have pretty much gotten rid of except for profile updates and signatures spam. So I thought I would remove new members from updated them without posting first and getting a group promotion. I thought this would be pretty easy... so much for that.
So I removed these permissions from Registered group created another group but I found it removed it from everyone included admins!
Here is a screen shot of Analyze permissions: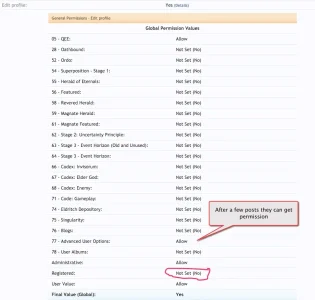 Notice that the final value is Yes however as admin I cannot edit my profile. Am I missing something?