Hi,
I came to xenforo.com via a Google search today and got a security error message talking of a bad certificate when then viewing this site. I thought I should mention this and show you what I saw: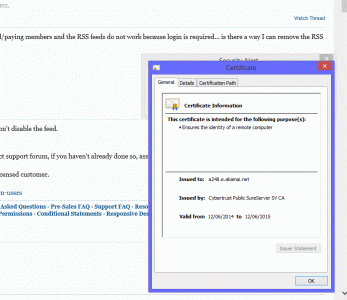 It said there was a problem with the certificate in the error message. It is not your info though and as you can see in the background I was viewing this site and a thread about RSS when the security alert came up, and I then clicked that for more info as shown.
The link from Google said it was to:
https://xenforo.com/community/threads/disable-rss-feed.28991/
I'm not looking for help or info I just wanted to report it in case it helps in any way.
Steve
PS: I was using Internet Explorer 11
Last edited: