This add-on allows you to create a welcome
thread, welcome post, and/or welcome profile post.
It's also possible to start a welcome conversation and to send a notification mail to your team members about the new registered user!
All settings can be found in your acp => options =>
New User Notification System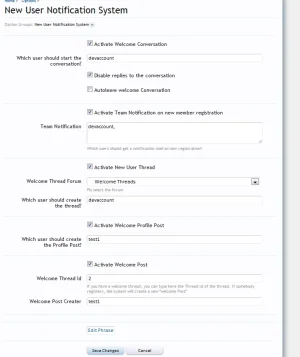 You can also customize the phrases on this page... Just click on "
edit phrase
"
Github repository:
https://github.com/ragtek/NUNS
Known Bugs:
https://github.com/ragtek/NUNS/issues?state=open
If you want to support me and the development of free future add-ons, you can donate any value to my
paypal account