Compatible XF 2.x versions

2.0
2.1
2.2
Updates duration

12 months; $20 optional annual renewal
Visible branding

Yes, but removable without payment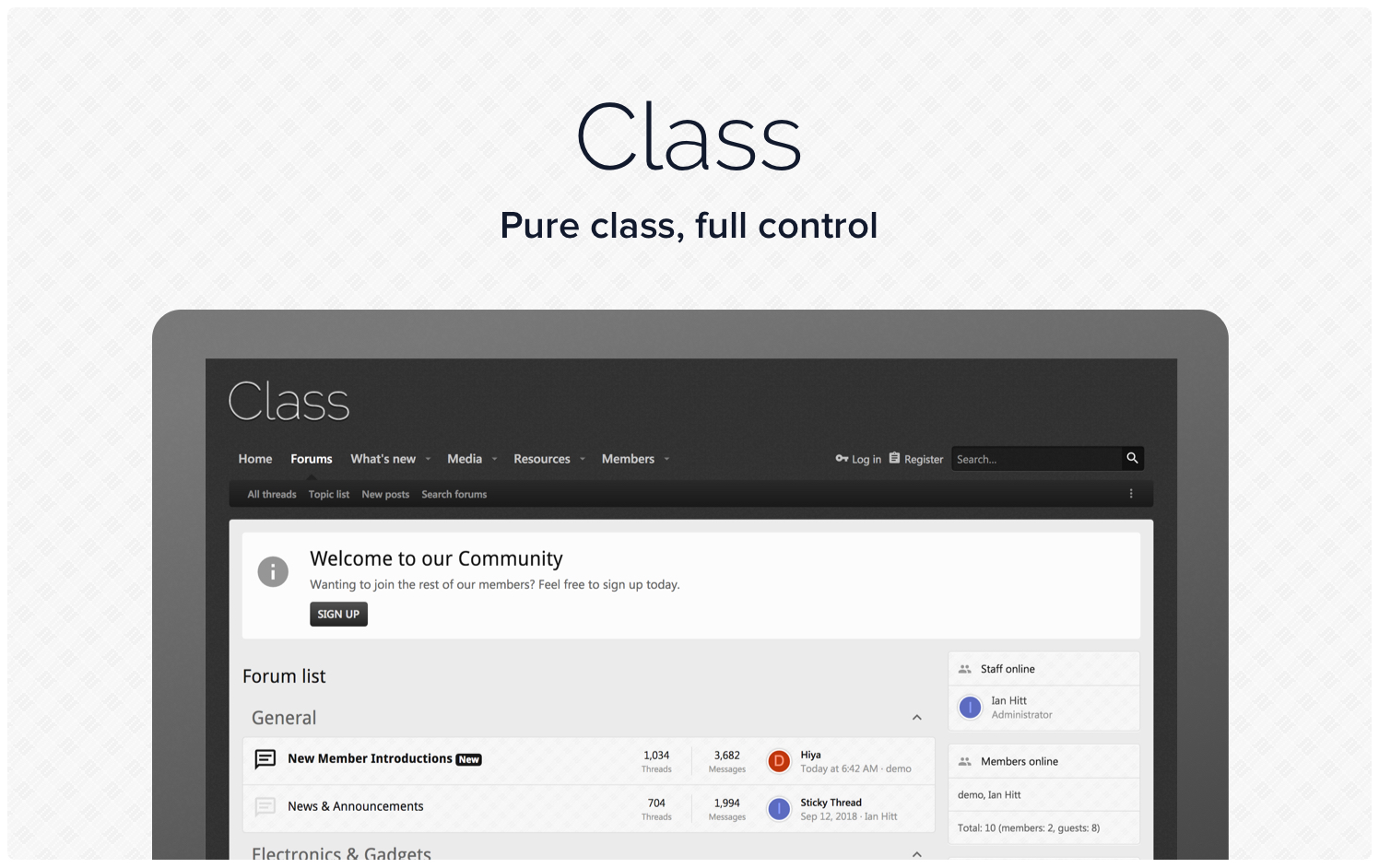 Class
A classic throwback from XenForo 1, Class has been rebuilt to work with XenForo 2. Class brings an educational feel with dark with textured backgrounds. Make content stand out from the structured, gray-toned color scheme.
Looking for Class for XenForo 1? You can find it by navigating
here
.
Class Features
[TH] Nodes Included, More Coming Soon!
When purchasing Class, you get a free [TH] Nodes license. It is automatically created after you checkout. You can learn more about [TH] Nodes
here
.
Free Branding Removal
We are now offering free branding removal for all XF2 themes and add-ons we offer at ThemeHouse. You can find out more by visiting the blog post
here
.
More Class Features:
Add appealing animations as pages load on your site. The various animations can be enabled and disabled.
Group pages together in the header to make navigation easier for users.
Set where you want an image to have parallax and the controls for it to add a neat effect on your site.
Let images automatically fade in and out to highlight several images on your forum.
Choose where visitor tabs go for mobile devices. You can either move them into the navigation or a tab bar at the bottom.
Add a Welcome Section for visitors to your forum to make your forum inviting and provide a simple way to sign up.
Customize the layout and contents of your footer.
Add Social Media icons that link to your social media pages that can be moved down to the footer or to the logo block.
Choose a modal window, dropdown, or slideout login style.
Easily customize your forum by putting a content wrapper around the main content, the main content and sidebar, or no wrapper at all.
Full sticky component support including sidebar, category strip headings, staff bar and more!
Support for languages that read right to left.
Collapse nodes, sidebar, postbit, signatures, and extra info under avatars.
Optionally enable dynamic avatars based on Material Design's color system.
Choose from 3 page style types: fixed, wrapped, and covered.
Move the sidebar to the right or left and align your navigation content to either the right or left.
Move the sidebar to an off canvas for mobile for better accessibility.
Set up your search to be a dropdown style or minimal search.
Add headings above normal threads and optionally allows users to collapse sticky threads.
Change the postbit avatar size to what fits your forum the best.
Coming from XenForo 1?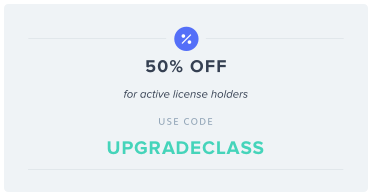 ​
If you have an active license, use coupon code UpgradeClass to receive 50% off Class for XF2. Use coupon code UpgradeClass20 for 20% off Class for XF2 if you have ever purchased a UI.X product based off of XenForo 1.x, even if it's inactive.
Other add-ons we offer:
We continue to release other add-ons as well, so be on the lookout for them!
Happy with Class?


If you've been enjoying our product, we would very much appreciate you taking the time to leave us a review! It is customers like you that make what we do at ThemeHouse so rewarding.