Hey guys,
I might need your help here. I exhaustively looked for a solution to this problem, read entire others threads but i give up on this I or any other administrator can upload attachments to posts on my board.
Just took some screen shots to help you to help me, the file that I'm trying upload is about 152k .jpg
On my troubleshooting I've started trying the regular way, just click on "Upload File" buttom and after 100% complete hit save:
STEP 1: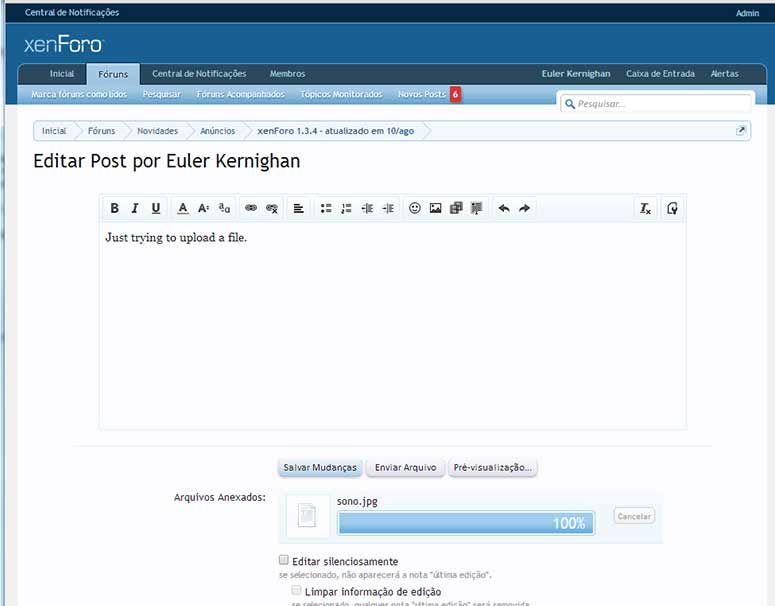 As you can see on the image bellow nothing happens:
STEP 2:
STEP 3:
My user belongs to Administrative, Moderating and Registered users, so I accessed each one of this groups and set the "Upload attachements to post" as Allow:

STEP 4:
Also checked the Options > Attachements:
STEP 5:
Checked the permissions on Applications > Node Permissions for Category and Forum, and set it as Allow for each single group:

STEP 6:
After that run in to Analyse Permission and analyse Permissions for my user and the node, with the same result:
STEP 7:
Analyse Permissions detailed:
STEP 8:
As a last resource, I've checked permissions on server's folders as:
Do you guys have any other suggestion or it's time for a ticket?
Thanks in advance!