Compatible XF 2.x versions

2.0
2.1
2.2
Updates duration

12 months; $20 optional annual renewal
Visible branding

Yes, but removable without payment
Abyss
Based off it's XenForo 1 successor, Abyss still brings many of the same features to XenForo 2.
Features include a flat, modern design with a hand-crafted and detailed interface design which is integrated with UI.X 2.
Abyss brings it's darker look which suitable for any forum along with many different abilities that allow you to switch out the background image, a node grid management system, and so much more which was offered in it's XenForo 1 version.
Abyss Features
[TH] Nodes Included, More Coming Soon!
When purchasing Abyss, you get a free [TH] Nodes license. It is automatically created after you checkout. You can learn more about [TH] Nodes
here
.
Free Branding Removal
We are now offering free branding removal for all XF2 themes and add-ons we offer at ThemeHouse. You can find out more by visiting the blog post
here
.
More Abyss Features:
Standard, floating, or sticky navigation and userbar
Flat modern design
Dozens of different search bar and navigation position variations
Collapsible nodes, sidebar, postbit, and signatures
Many types of category description types (tooltip, inline, or none at all)
Different login styles such as modal window, dropdown, and slideout
Option to remove the forum list page actions (New Posts and Post New Thread buttons)
Option to enable avatars based on Material Design's color system
Switch out the background image, node grid management, and so much more!
Coming from XenForo 1?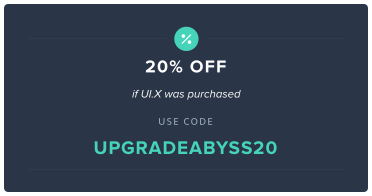 ​
As a thank you to all those who have stuck by Xenith, those with an active license receive 50% off when upgrading to Xenith. Just use coupon code
UpgradeAbyss
. If you have ever purchased a UI.X product
based off of XenForo 1.x
, we have a 20% even if it's inactive, just use coupon code
UpgradeAbyss20
.
We offer this theme for XenForo 1. Click here to view it!
Other add-ons we offer:
We continue to release other add-ons as well, so be sure to be on the lookout for them!
Happy with Abyss?


If you've been enjoying our product, we would very much appreciate you taking the time to leave us a review! It is customers like you that make what we do at ThemeHouse so rewarding.