Let's say I wanted to have an optional user field available when a user registers, but I don't want it editable for registered users. Specifically, my use-case is a drop-down list asking the user where they heard about the site (I don't want it required and don't want someone to be able to go in and edit it after the fact).
I was thinking the "Show during registration" option would do that, but it appears in order to make it show on registration you either need to make the field required (which I don't want to do in case they pick nothing)
or
you have to make it user editable (which would allow existing users to edit it on their account preferences, which I also don't want).
If I set the custom user field options to this, it does
not
show during registration (shouldn't it be implied that if you want to force it to show during registration, the user has permissions to edit the value during registration?).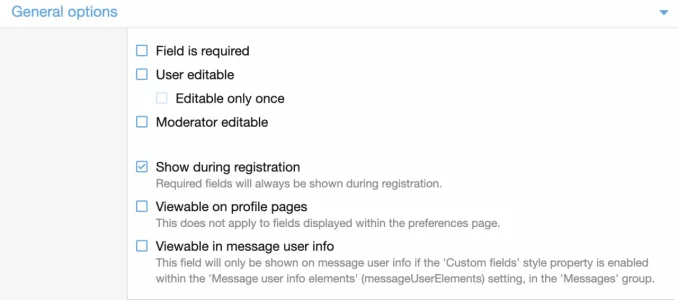 Maybe I'm missing something, but it seems like a pretty common use case and the option to "Show during registration" implies to me that it should show during registration (which it does not).