This is to inform you that
Jim McClain
has passed away. He died peacefully in his sleep at Saint Mary's Hospital, Reno, Nevada on February 27th, 2021. He was 71 years old.
You can read about Jim's life and his on-line activities in an obituary published by a local news outlet.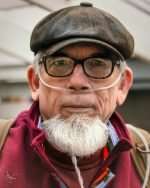 James Alan McCLain September 17, 1949, to February 27, 2021 Jim McCLain was born September 17, 1949, in Fort Richardson,...

www.plumasnews.com