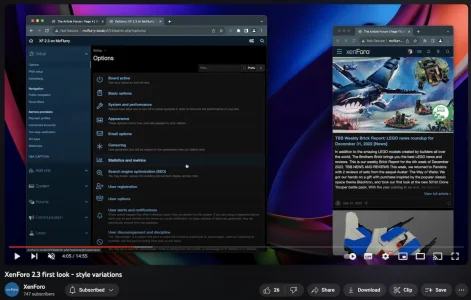 ​
In what is probably one of the worst kept secrets in XenForo 'Have you seen...?' history, the eagle eyed amongst you may have picked up on one or two... or three... clues that we may be talking about this soon, and the day has finally arrived! Today we're excited to show you our take on the highly requested webhook implementation in XenForo.
For those of you who haven't heard of webhooks before, they are a powerful utility that allow one application or service to send information to another when certain events occur. These can be everyday actions such as when making a payment for access to a product or service, or more specific implementations such as having a new Thread from your forum posted to Discord automatically.
It is likely that even if you're not a developer type person then you have utilised or encountered webhooks in one way or another at some point without realizing.
Here at XenForo, we automate a lot of our workflow using webhooks, some of which may be obvious, others less so. For example, we receive a webhook from GitHub every time that we fix a bug report - this is what automatically marks bug reports as fixed. Another example, is we send a webhook to Slack every time someone posts a bug report or reports content.
Webhooks as a general concept, can be a very flexible tool with an endless amount of use cases, the ability to send webhooks whenever certain events occur on your forum to another system is going to be something you can take advantage of starting with XenForo 2.3.
Now while webhooks may appear on the surface to be something targeted towards developers, there are a number of fantastic third party automation services which are capable of receiving webhooks and triggering actions. These services, such as
IFTTT
,
Make
, and
Zapier
, offer a convenient and user friendly way to automate and integrate applications within your website with thousands of integrations already available.
Closer integration with one or more of these services is being considered for a future release, but all three of the above examples do accept webhooks as a trigger.
As ever, there's a lot to talk about in this one so feel free to jump to a specific section below:
Have you had enough yet? We haven't. There's more to come next week!