I looked at the following thread,
https://xenforo.com/community/threads/remove-postbit-for-first-post-in-a-certain-forum.111923/
But I could not see a "message_user_info" template or phrase for default style? Also, that thread is from 1.5. Not sure what's changed in 2.2.
I'd like to hide the user postbit for my "site pages" board which I use for creating custom pages without needing to understand HTML, especially since I want to have some fancy-ish layouts like floating text, accordions, etc, from Xon's bbcode addon.
I do not understand enough code to do layouts like that I can barely do headers, text alignment (like centering headers), and links. lol
Edit:
I want to hide the following sections, highlighted and arrowed in red. I know turning off replies hides the box for regular users so that's not a problem.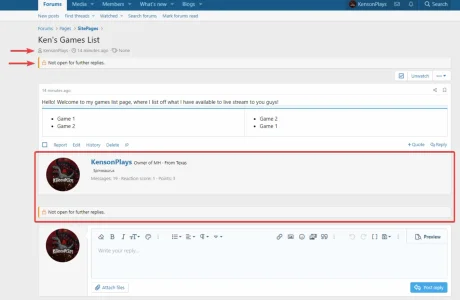 Last edited: