Audentio Autumn Theme Package - Theme Customization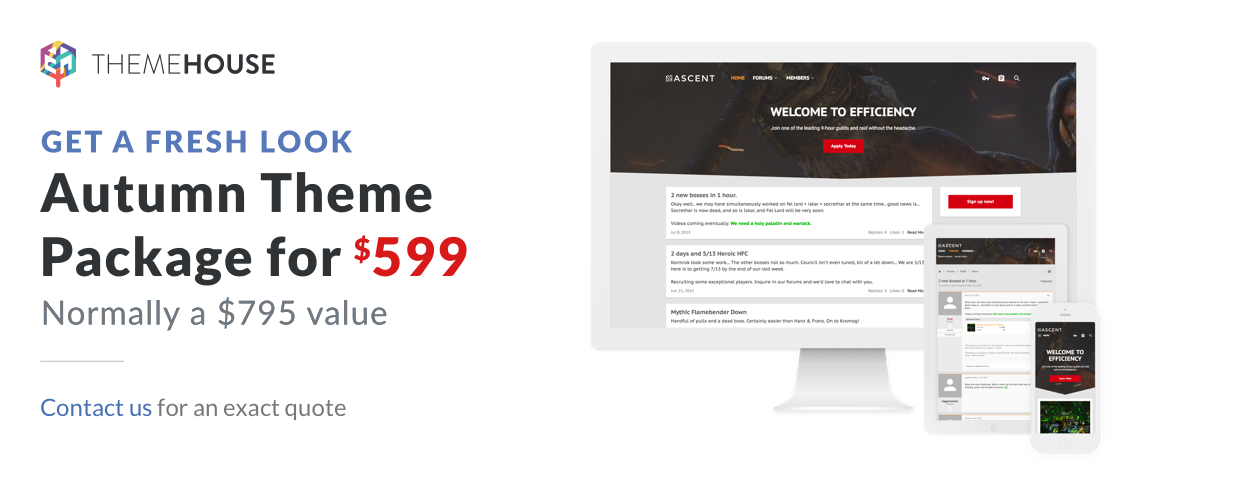 ​
As the leaves begin to fall and there's pumpkin spice everything in the shops, it's also time for an autumnal theme offer!

If you're looking for affordable customization, this is the package for you. At Audentio, we pride ourselves on beautiful, creative, efficient solutions for your forum needs. Buy any of our themes found at Audentio.com, and with this package, receive a discount on our hourly rate to help bring your project to life!

How you spend your time with the designer is up to you. We can do anything, including:
Designs

Logos

Home Pages

Branding Design (Color Palette, Typography)

Forum List

Thread List

Thread View

Register Page

Profile Page

Header/Footer

Site Matching

Industry Research
Put together the package of your choice, here's an example:

1. Install a product of your choice
2. A customized logo
3. Assistance identifying the best Add-Ons for your community
4. 2 hours of labor with a designer

Our work includes forums of all sizes. From small personal forums, to projects as large as cPanel, and MacRumors. With the Audentio team, you know that you will be in the right hands for any digital project! For examples of our work just take a look at these gorgeous themes:

Bliss
Corp
Many, many more!

Examples of our work such as:
Home Theater Forum:



Grasscity:



cPanel:



To take advantage of this offer simply click below and we will be in touch shortly.

​
Last edited: