I've altered the xen_user_field table in the database and extended it by a new column.
Also I altered the matching piece inside the ACP to support the new field.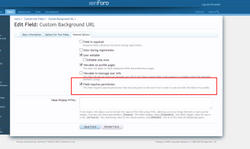 But as by now, the selected value inside the ACP is not altered in the table. Guess I have to edit some php file here? If so, which one and how is it normally done without altering existing xenforo files?