I have searched for this, and the only reference to this error on xf.com is in this offtopic thread
http://xenforo.com/community/threads/my-first-xenforo-error-comes-after-using-ie8-for-15-minutes.8334/
Way to reproduce:
1. Open XF in IE 8/7 and Click on Post New Thread. After TinyMCE editor loads, click on the Insert Image/Insert Video buttons.
2. IE reports Javascript
Error on Page
as shown in screenshot below: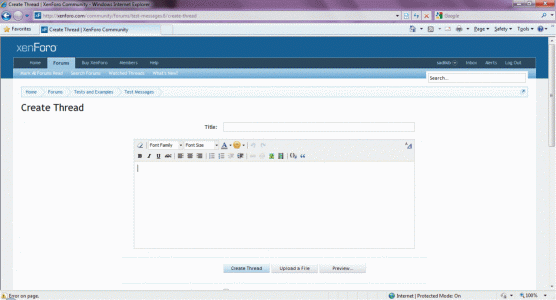 ​
3. This is the error prompt,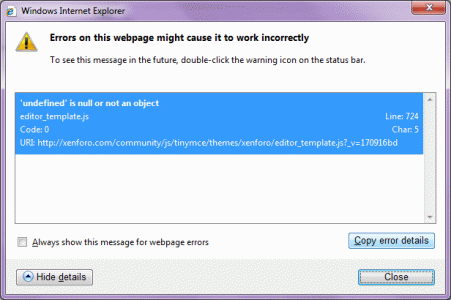 ​
4. And here's the error
Code:
Webpage error details

User Agent: Mozilla/4.0 (compatible; MSIE 8.0; Windows NT 6.1; Trident/4.0; SLCC2; .NET CLR 2.0.50727; .NET CLR 3.5.30729; .NET CLR 3.0.30729; Media Center PC 6.0)
Timestamp: Sun, 26 Jun 2011 06:52:46 UTC
 
Message: 'undefined' is null or not an object
Line: 724
Char: 5
Code: 0
URI: http://xenforo.com/community/js/tinymce/themes/xenforo/editor_template.js?_v=170916bd
To ensure that I was not picking the error due to loading a cached version of the javascript files, I cleaned my PC IE cache and then used CCleaner to ensure no cached traces are left. Opened IE again, and same error. Obviously I first encountered this error on my own site and then tested here at xf.com and same is coming.
I did some research and a stray comma in the editor_template.js code *
may
* be the cause. This is annoying as inserting images/vids in IE is not possible.