Well, today it's just a few days more than a year that I joined here at XenForo.com and fell in love with XenForo at first sight.
May I say that since then, I've been waiting eagerly to be able to make this thread and thankfully today I can, since it has been a week that I have successfully converted my vBulletin board [v4.0.6] to XenForo [v1.0.4]. My board is a semi-Urdu Pakistani board, with threads both in English and Urdu (a right-to-left Asian language), hence my concern that Urdu content and URLs display correctly.
About 4 months back, I bought my first XenForo license and installed it on my server, just to get the hang of the Admin Control Panel. After setting up a basic forum, I invited my users to have a go at the new site and let me know what they think of it. Their response, as expected, was fabulous with many of them having asked why haven't we migrated over already!
It was only a couple of weeks ago that I finally found a suitable slot of free time during which I finally decided to migrate over. May I mention here that by profession I am a doctor, and this again goes to the credit of XenForo that a person like myself with no more knowledge of PHP or coding than can be expected of your average nerdy doctor, was able to migrate things over.
After setting up a test installation, I finally set to do the migration. Paul M's
vBulletin 4 Importer
did a lovely job, though I did run into some glitches which seemed to be due to an imperfect ColdFusion to vBulletin import in the past. Once the migration completed, I took my time looking at all the migrated data and was pretty satisfied with what the importer had done. One problem that did occur was that threads with Urdu characters in the titles (and hence URLs) were not opening and would return a "Thread does not exist." error. However, this was promptly identified and fixed by Mike (Thank you
very
much!), with a very simple fix, via a support ticket. The problem was with how my IIS server was recognizing and processing the URLs. After satisfying myself that everything else was OK, I set out to do the final migration.
A re-installation was done, after which I started the data migration afresh. For those of you interested, my vBulletin board stats were:
Threads: 30,476​
Posts: 990,969​
Members: 7,658​
As expected, since all database issues had been addressed during the test migration, the import completed without a single hitch. I am VERY impressed with Paul M's import script as to how efficiently it works.
Time stats for the complete migration may be seen below: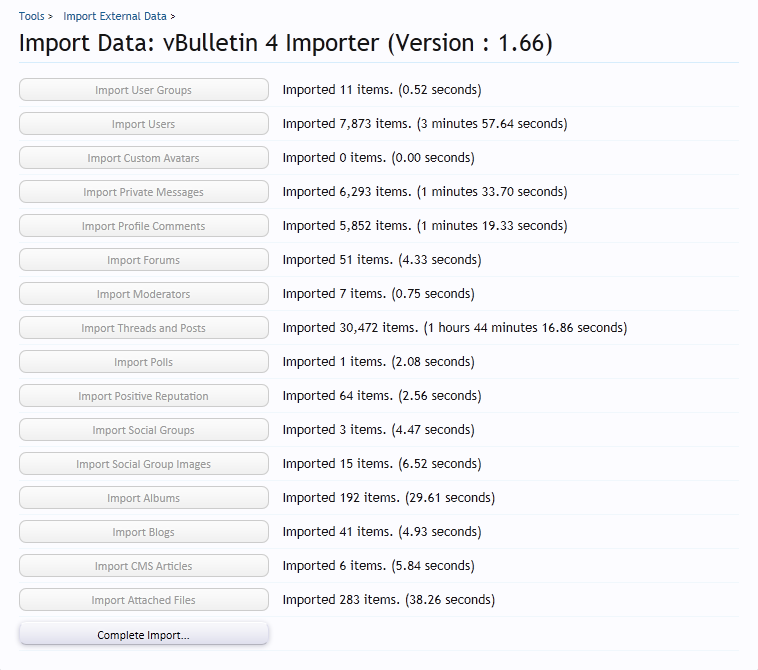 The migration having successfully completed, all that was left was to rebuild caches, the search index and to set usergroup permissions. It did take me a while to comprehend the usergroup permission setup for XenForo after being used to vBulletin's setup, but once I got the hang of it, I must admit that it is
way more powerful
than what I had been previously using.
With everything ported over and the usergroup permissions set, the site was reopened and with one week having passed since then, my users have been extremely happy that we were able to make the shift while we did. I have heard nothing but praise from their side about how easy on the eyes, and easy to use the site and layout is. And more importantly for myself, for the first time since almost a couple of years, I can stop worrying about the backend of the forums, with things breaking here and there with a simple third-point (x.x.X) upgrade and finally focus more on the frontend.
I would like to thank a few people by name for their guides and tutorials which they have generously took out the time to write up and share with us for our benefit.
Paul M
: For his brilliant
Import script
, without which the migration would simply never have been possible. Thank you very much, Paul.
Jake Bunce
: Now this guy truly deserves his custom title of
"Probably knows the answer"
. His
Import Guide
proved to be very handy and useful, especially with the screenshots, and helped knowing what to expect during the whole process.
Brogan
: Paul deserves a wholehearted thanks for helping out with my questions during the whole process and more importantly for a
very thoughtfully
written
XenForo Help Manual
. This came in handy many many times.
So, thank you very much XenForo and the team for such a wonderful software. I am indeed a very happy customer.