Hello Xenforo,
I am happy with getting the xenforo license for $140. I used my first paycheck on it, and would like to see how great it is. First off, I downloaded Flexile Dark because it looks great. However, I'd like to customize it. How do I change this icon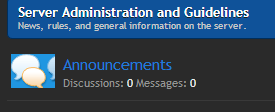 To look like this icon:
Second,
Something that bothers me is this:
And I'd like to change to this:
*Note that this is almost everywhere, and not just this one specific part.
That's about it! Please answer asap if you know the answer. Greatly appreciated.