I'm not sure how to describe it, but I'll try
I think about database of music clubs for musicians/bands and already created CATEGORY.
In that CATEGORY there's already a prefix for "Polish provinces" when user creating a new thread. Each new thread in that category will be created only for one "music club"
At this moment when user creates net thread there's only:

I look for an add-on which automatically insert in all new threads in this CATEGORY that kind of formula, but only for person who creates thread, next answers shoud look like standard blank forms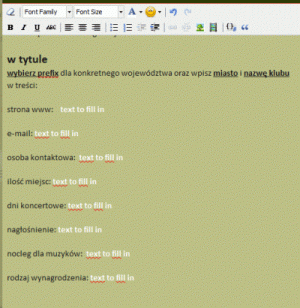 Is there something like that in Xenforo?