Compatible XF 1.x versions

1.3
1.4
1.5
Updates duration

12 months, $5 updates
Visible branding

Yes, but removable with payment
[TH] Quick Thread - Quickly create a new thread from any page
Description
This add-on allows users to find the forum they want quickly and create a thread in one action.
Features
Call to action button on every page
Users can easily post a new thread from anywhere on your site
Quick search filtering of nodes
Limit quick thread button to specific views

Forum list

Forum view

Thread view
Allow users to search node descriptions as well as titles
Whitelist nodes so that they are the only nodes which show up in the filter
Blacklist nodes that you do not want to show up in the filter
Choose to display a filter list or a select menu
Hide the trigger from users in nodes where they do not have appropriate permissions to make posts
Customize the call to action button so that it says something besides "Post new thread"
Questions?
If you have any questions regarding this add-on feature please do not hesitate to ask in the discussion thread.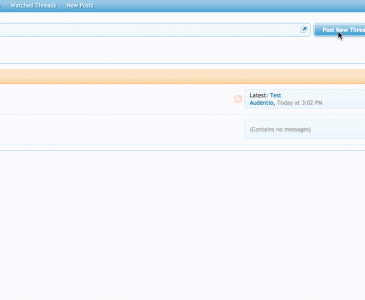 Thanks you!
ThemeHouse