It has been very long since I had these blank moods that I volunteered to translate into Turkish. Finding the right meaning for the moods was a struggle as well as placing, organizing the text, checking the text file containing the translations, lots of layer copying, adjusting etc.
I can only imagine how much work was put into creating each graphic, without wanting anything back in return other than a simple thank you. So, this intro is my thanks to Shelley for the leap of faith, giving me the opportunity.
Özet:
Shelley'in oluşturduğu Ruh hali simgelerini uzun bir uğraş sonunda Türkçe'ye çevirdim. Bu ruh hali simgeleri temel olarak
Xenmood Add-On
eklentisi ile çalışmak üzere oluşturuldu. Ekran görüntüsündeki simgeler, paketteki ruh hali simgelerinin sadece bir kısmıdır.
Ek Not:
Konuda 195 adet ruh hali bulunuyor. Plana göre daha fazla ruh hali tasarlanacak. 200 ruh halinden oluşan paket öncelikle bbsmiley.com sitesinde paylaşılacak ancak burada da yer alacaktır.
Önemli Not:
Bazı ruh hallerinin dilimizde karşılığı yok ya da çok argo.
Özellikle bazı aşırı argo ruh hallerini kullanmadan önce ayıklamak isteyebilirsiniz
. "Şu şöyle değil, böyle" dediğiniz ruh hali olursa yazın, değerlendirmeye gayret edeceğim.
Kurulum Notları
styles klasörünü FTP istemcisi ile forumunuzun ana klasörüne gönderip üzerine yazdırın.

Hepsini bir anda yüklemek istiyorsanız forumunuzun kullandığı veritabanınıza gidin

xf_mood_tr.sql dosyasını aşağıdaki resimdeki gibi aktarın! Not: Aşırı argo ruh halleri eklenmedi, birkaç tane ruh halini el yordamı ile eklemeniz gerekecektir.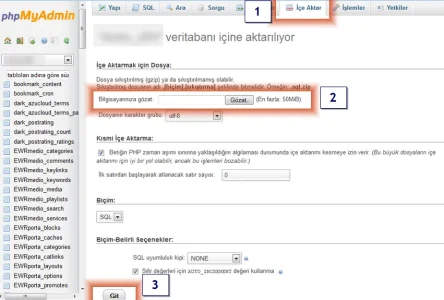 Eğer ruh hali simge tasarım öneriniz varsa önerilerinizi bu konuda iletebilirsiniz.
Conditions of use: This pack may be used on Xenforo forums only, but cannot be redistributed or repackaged in any way shape or form for any reason without prior consent of the author.​
​
Kullanım Koşulları: Bu paket sadece XenForo yazılımını kullanılan forumlarda kullanılabilir ancak hiçbir şekilde yapımcısının izni olmadan yeniden düzenlenip başka yerde paylaşılamaz. ​